These self-adhesive vinyl cut letters come ready to apply to windows, walls, laptops, and anything else with a clean and smooth surface. If you want to include images, clip art, or other graphics with your letters, we suggest using our Pro Decal Tool instead. The pro decal tool will provide you with a blank canvas based on size dimensions you provide and will allow you to upload your own graphics, search through our clipart database, and add text.
Every custom window lettering order comes sandwiched between a protective silicone coated paper and a transfer tape. The transfer tape will help make application a breeze. For complete instructions and additional tips see our vinyl decal application tutorial.
Vinyl lettering is a perfect choice for use on walls, boats, jet skis, personal watercraft, kayaks, snowmobiles, hotrods, race cars, trucks, vans, SUVs, other vehicles, windows, storefronts, and virtually any other smooth and clean surface.
Our Vinyl Lettering is usually "Cut-to-Shape". If we cannot cut your lettering to shape, we will need to print on clear vinyl and then "Contour Cut" within 1/8 of an inch from the design. Use the following image as an example: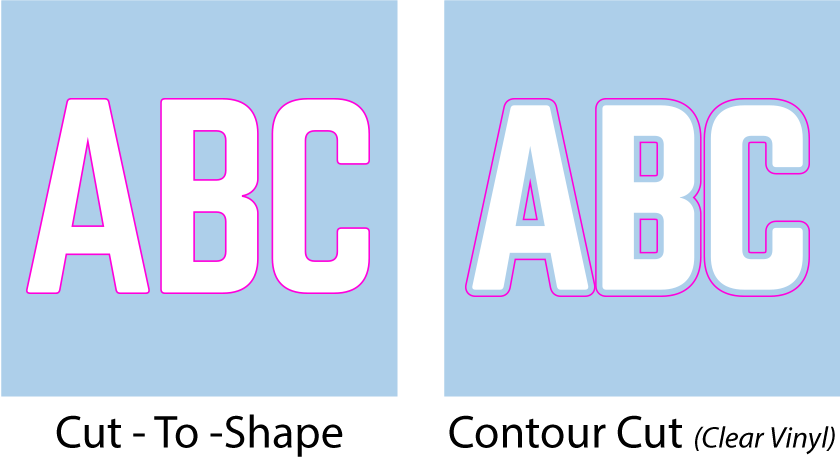 NOTE: The pink outline depicts cut lines and is not part of the printed design.