Great Responsibility Bumper Sticker
Peter Parker's Uncle Ben spoke these wise words that quickly became a running theme for any Spider-Man story: With great power comes great responsibility!
Have an idea for your own custom bumper sticker? Awesome! Let us help you design your creative bumper sticker. We have a large collection of sizes and colors for bumper stickers.
Up to 5 years of indoor/outdoor durability
No Minimum Quantity Limits
Great for car windows, doors, laptops, and other clean smooth surfaces
2.5 mil thick vinyl with solvent based adhesive ideal for exterior application
Edit selected size within the Design Tool for custom size options
Great Responsibility Bumper Sticker Details
The intrepid web-slinging hero known as Spider-Man made his debut in the August 1962 edition of Marvel Comics' "Amazing Fantasy" comic book. Ever since that day, he's been saving lives and beating criminals all over New York City (to the chagrin of J. Jonah Jameson, naturally). Spider-Man and his alter ego Peter Parker were created by Stan Lee and Steve Ditko, with some of the original illustrations drawn by Jack Kirby. Through the years, he's taught us all a lot about what it really means to be a hero, through comics, movies, cartoons, and more, and the world is a far better place for it. Today, on August 1st, we celebrate Spider-Man Day.
Our Bumper Sticker decals all have smooth and rounded corners for superior quality and detailed craftsmanship. These rounded corners makes the application process a little easier. Our Bumper Sticker shaped decals contain adhesive on the back side and are ideal for exterior application. Choose from a variety of sizes and colors to get started. You can add text, search through clip art and upload your own images. What you create will be a product of your own imagination.
All of our custom decals are made right here in North Carolina.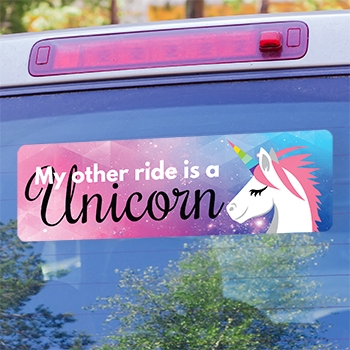 Great Responsibility Bumper Sticker reviews (0 Reviews)
Your feedback may help other customers make important decisions before placing an order. Many times in the past these customer reviews have provided feedback that we have never really thought of before.
0%

No Rating