Dog Tag Templates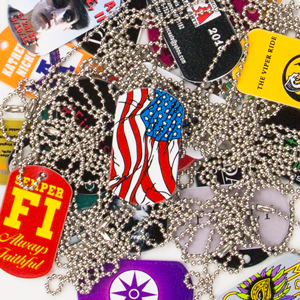 Use our dog tag templates to setup your own custom designs. You can edit the text, colors and images or upload your own photos if you'd like. What you create will be a product of your own imagination and creativity. Half of the battle to creating your own custom dog tags is coming up with an idea but these design templates will help kickstart your own idea.
Our Dog Tags are manufactured from powder coated steel blanks and measure approximately 2"x1". The image is applied to the front and/or back of the tag through a printing process called sublimation. With this printing process we can generate full photo quality results. Prints on our tags feature a high gloss finish and smooth finish. We do not stamp, press or emboss our tags. Each tag comes with a 30" ball chain that you can cut down to a smaller size with some wire snips, if desired.
If you already have a design idea and do not need out templates you can always start from scratch. Our start from scratch dog tags use the same design tool and offers the same features but will provide you with a blank canvas to start from.