Face Cling vs Back Cling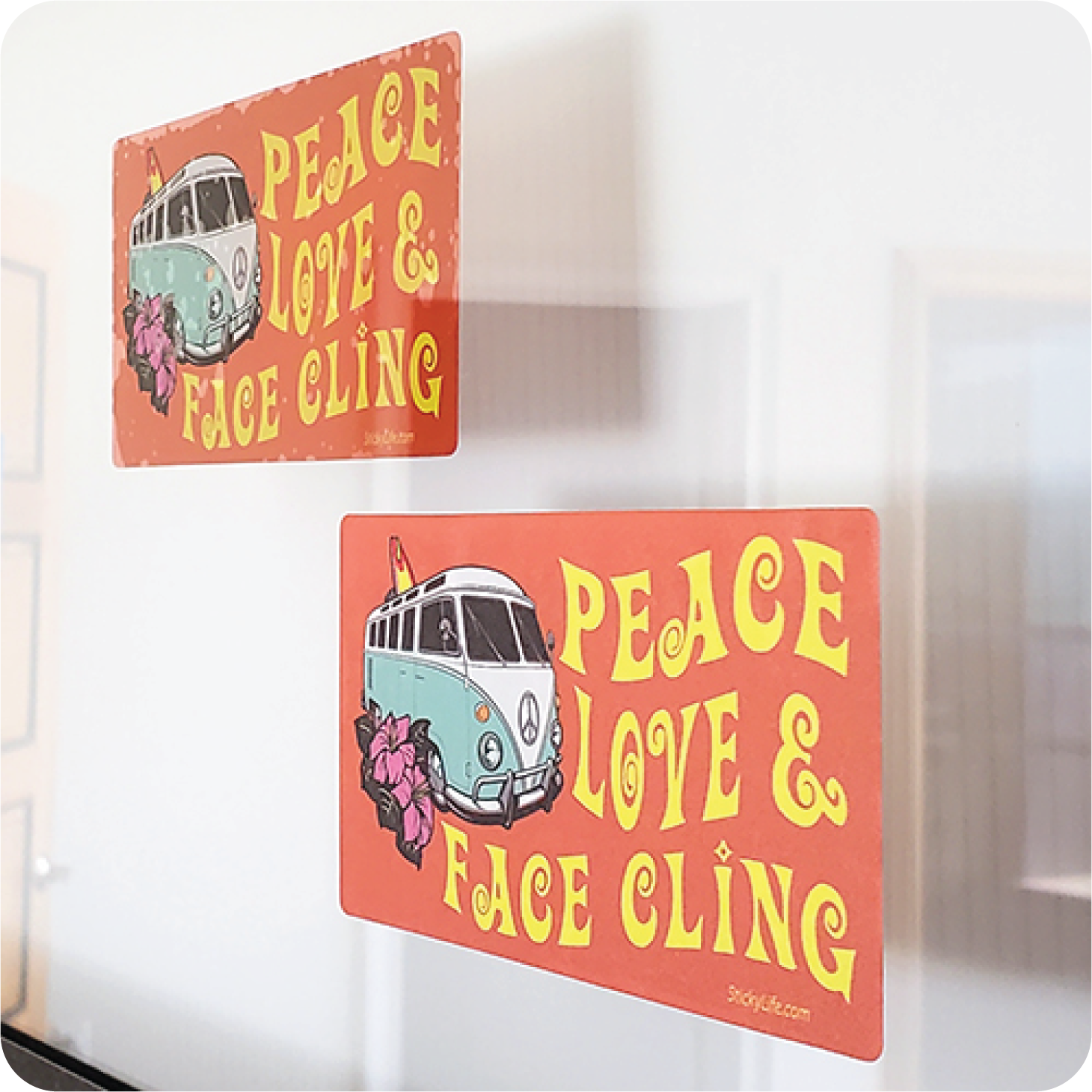 Static Cling products have 2 basic options Back Cling and Face Cling. Learn the difference and see examples when Face Cling and Back clings are used. StickyLife.com produces some of the best Static Clings but it is up to you the customer to determine how you will use the Static Clings. We need to know this information so that we can properly produce your clings for you. The cost is the same regardless of your selection.
Custom printed Static Clings are often used on windows and mirrors or other high gloss surfaces like plexiglass and some metal surfaces. It is important for us to know if we need to manufacture your static clings as Face Cling or Back Cling. both options produce a nice quality result but both options will produce a different end product.
When we print onto Static Cling material the side we print onto will no longer "cling" onto your surface. Therefore we need to know if you want to apply your clings on a glass surface and then view the cling from the other side of the glass. In this case Face Cling is necessary. Examples of this would be car windows, glass partitions, store windows and other clear surfaces where viewing the design happens on the opposite side. When we print face clings we print the design in reverse onto clear static cling material. This way you can can apply your clings to a window and see the design through the window and cling material.
Back clings maintain the clinging properties on the back side of the vinyl material and are usually used on mirrors, high gloss painted surfaces like lockers and metal filing cabinets or windows when viewing of your design will take place on the same side as application. In this case we print back clings the same way you would print anything else, right side up.
Contrary to popular belief Static Cling is not held in place by Static Electricity but rather through vinyl plasticizers found naturally in the vinyl material. A similar example to this phenomenon can be found with pool floats. If you've ever blown up a enter-tube, pool floats or vinyl based balls then you may have experienced the vinyl wanting to stick to itself. This is s result of the plasticizers found within the vinyl material. Over the coarse of time the vinyl plasticizers will fade and your static cling graphics will no longer apply to your windows or other high gloss surfaces. Sometimes applying a water may help rejuvenate your static cling but this does not always work.
StickyLife branded static clings may last for 3+ years or longer depending on how many times they are applied, stored and what kind of exposure they receive. We always suggest using the wet application method for best results whenever possible. This method helps produce an air bubble free application and will give you the most professional finish.
NOTE: It is always important to know about your intended application surface before placing your static cling order. Static clings are not intended for exterior use on car windows. While driving down the road your clings could be ripped off your window based on the air pressure presented by your vehicle speed and wind resistance. The only time we suggest a Window Cling for use on exterior windows is during car shows, parades and other cases where the vehicle is not moving or at least not moving very fast.
Some customers will naturally want apply their clings to the inside of their car windows to market or advertise their business or take a political or social stance on something they consider important. In these cases you'll want to consider window tinting in your vehicle, store front or other window based surface as a possible issue. For window tinting that still works with static clings application intended to be seen and read through the window tint can become difficult. Many modern vehicles manufactured today include factor window tinting that can be so dark you may not even be able to see your clings through the window. It is our suggestion to order Vinyl Decals aka window stickers that are made for exterior uses that can handle weathering conditions like wind pressure, rain, heat, UV rays and more. By applying decals onto the exterior portion of the window you will gain best visibility of your design.
Not all window surfaces are created equally. Some windows may look like normal windows where a cling may stick onto but due to manufacturing procedures there could be microscopic pits within the plastic or glass surface that will prevent your clings from adhering properly. Other causes for clings not to stick to your surface could include oily coatings or other window tinting films that do not work with static clings. We have found this to be true on the back quarter panel window in some Honda CRVS. If you find other vehicle windows where our static cling or other manufactures clings do not stick onto, please let us know. To test if your windows will work with static clings you can always temporarily use an oil cling found in your car window, if your car still uses oil, to see if it works on another portion of your window. For best testing to see if our exact product will work on your windows we suggest purchasing our FREE Sample Pack. The pack may be free but we do ask that you cover the cost of shipping. Doing this will give you sample of some of our printed products, which includes a static cling.