Shipping and Turnaround Times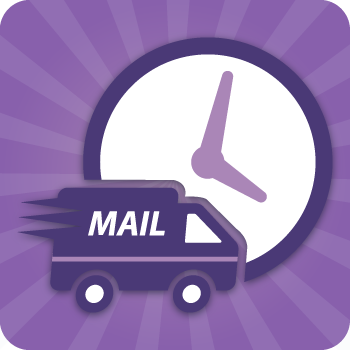 At StickyLife.com we try to give you a variety of shipping options while trying to minimize your costs to a minimum.
Shipping Methods
Standard Shipping (Delivery within 10 business days)
When we ship we select the shipping company or service that will get your order to you within the quoted time frame. Your order should arrive within 10 full business days from the time you placed your order (depending on location). We use the U.S. Postal Services for most orders.
Current price for standard shipping is only $5.99.
Fast Shipping (Delivery within 7 business days)
Our Fast Shipping option is usually delivered through the United States Postal Service but will sometimes be shipped through UPS if needed. Most of these orders ship out within 4 business days. With this shipping option you can expect to receive your order within a 7 business days from the time you place your order (depending on location).
Current price for Fast Shipping is only $14.99
Rush Shipping (Delivery within 4 business days)
When customers select rush shipping they can expect their order to arrive within 4 business days. We select the best method to guarantee that your order will arrive within that amount of time. Rush orders are expedited and will at times be shipped next day air if needed. At the same time your order could also ship through first class mail. It really just depends on your location and how long it takes for us to send it through production. Large quantity orders and temporary tattoo orders are not available for Rush Shipping due to the production process and the time it takes to get those orders ready to ship out. Rush shipping is ideal if you need your items really fast.
Current price for rush shipping is $54.99.
The largest advantage to using the Fast or Rush Shipping option is that we place those orders at the top of our job runs and treat them with more urgency than Standard orders. If you need your personalized gift in a hurry then selecting Fast or Rush shipping will help ensure that you get your order in time. Our checkout process will calculate an estimated delivery date for you.
All stickylife.com orders will have a tracking number. When your order ships out we will send you an email confirming that your order has shipped. Your shipping confirmation email will contain a tracking code that will allow you to track the step by step location of your package. If you expect to receive your order within a day or two and have yet to get your shipping confirmation email please feel free to contact us.
Important Things to Note:
All orders are important to us and are all treated with equal care and attention!
A business day is considered a non-holiday Monday through Friday (8am-5pm eastern time). All other days are not considered "business days".
If your order does not arrive within the projected time please contact us. We want to make sure you get what you ordered.
Shipping prices are subject to change at any time.
Large quantity orders may not apply to the estimated delivery times. Orders are considered large quantity based on physical size and quantity and will vary from product to product. For instance: 100 small window decals wouldn't be considered a large quantity, but 100 custom plates license would be.
We currently only ship within the United States but hope to offer our services beyond our own borders in the near future.
To figure out when your package will arrive simply access your order confirmation email. Within that email you will be provided with an Estimated Delivery date. You can also add up the business days starting with the next full business day after you placed your order.
Example: If you place an order on Monday afternoon around 2:30pm EST and selected standard shipping during checkout. Tuesday would then be the next full business day and would count as day number one. That Friday would be day number four and the following Friday would be day number nine. You should then expect to receive your order by the following Monday. (10 full business days from the time the order was placed).
Shipping Questions
For questions about shipping not found here, please feel free to contact us
StickyLife.com
7868 US 70 Hwy W., Unit D.
Clayton, NC 27520
Phone: 1.800.356.8904
Fax: 1.919.243.2013