Temporary Tattoo Templates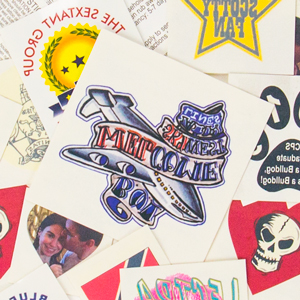 If you're having some difficulties coming up with your own temporary tattoo design ideas then perhaps these templates can help get you started. All of these temporary tattoo templates are customizable and can be edited to suite your needs. Change the text, clip art images, colors, size, background colors and more.
Our temporary tattoos are manufactured using only FDA approved inks and adhesives for exterior skin application. These water slide tattoos are commonly used for sporting events, political rallies, social events and other marketing and promotional initiatives.
We are constantly adding new tattoo shapes to our lineup and offer more shapes and colors than what you may find listed below. If you already know what temporary tattoo shape or design you're interested in then you might want to start from scratch.