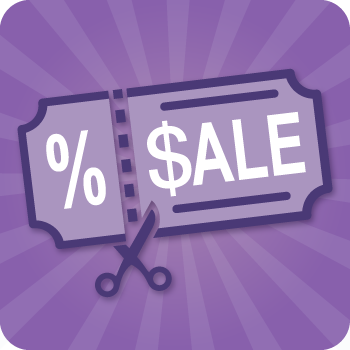 We have many different sales and discounts going on at the same time. All of our discounts are set up as a coupon code that you can enter in your shopping cart during purchasing. The discount code will then automatically subtract the appropriate amount from the total in your shopping cart.
The majority of our sales and discounts are only available to our social media fans, past customers, and StickyLife.com newsletter subscribers. Sign up for any of our social media connections to receive a discount on your purchase. If you have questions or would like to be added to our quarterly e-newsletter, please email us at info@stickylife.com
Shipping and Sales Tax not included.
Quantity Discount Levels
Most of our products have quantity discount breaks starting at 3 or more pieces. The more you order the cheaper your product becomes. The following list is the average quantity discount breaks we offer for most of our products.
3+
10+
25+
50+
125+
250+
500+
1,000+
1,500+
2,500+
5,000+
10,000+
When ordering a quantity between one discount level and the next, your unit pricing will be based on the last quantity discount level. For instance, If you enter a quantity of 15 pieces your unit price will be based on the quantity discount break for 10+. Once you reach 25+ your unit price will drop to the 25+ discount level. As you can see, sometimes it may be cheaper to order more than you need.